In Part 2 of the 2017 Lunar New Years Forecast we take a closer look at how the Rooster and each other sign will fare this year?
After a fast-paced, highly energizing, often unpredictably wild year ruled by the versatile Monkey, we can look forward to a quieter and seemingly slow-paced year of the colorful and meticulous Rooster.
2017 New Years Forecast – the Fire Rooster
Compared to last year, the year of the Yin Fire Rooster may seem uneventful on the surface, but due to the opposing energies between Fire and Metal this year may still not be very peaceful, especially, behind the scenes. Fortunately, the first day – 27th or 28th of January- depending on your location, is dominated by a strong presence of the Wood element. This high amount of Wood may bring us some hope that intelligent negotiations will be considered to solve conflicts. Why? The Wood element represents intelligence, study and knowledge but also growth, new beginnings, grass roots initiations, rebuilding of infrastructures and future planning.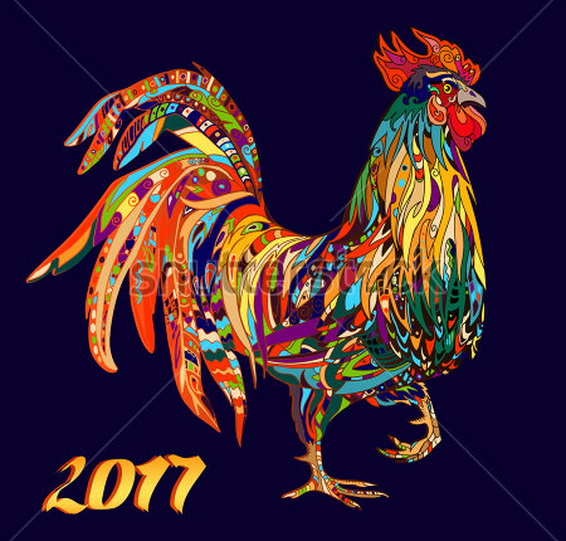 The year 2017 could be colorful, like the feathers of the elegant Rooster, bringing good luck to anyone who is willing to put in the hard work and perseverance. It is also a fantastic year for the advancement of technological innovations – this Rooster loves technology and innovation- especially in the field of free energy. All Roosters are meticulous, detail oriented and highly suspicious so expect increased security in all aspects of communications, law enforcement, state and government agencies.
For a more detailed summary of the impact of the Rooster on the Economy, Politics, Health, and Earth changes, please check out Part 3 of this New Years Forecast series.
How will the Rooster and all other signs fare in the Lunar New Year?
The Yin Fire influence of the Rooster will reignite our optimism and enthusiasm. The Rooster carries both the 'Flower of Romance' and the 'Nobleman' stars this year. This could mean a new or renewed Romance for many people smitten by the Love Bug. The Rooster often inspires the old-fashioned, sentimental variety of Romance. Yin Fire is fickle however, so caution is strongly advised not to lose trust, get suspicious or over-dramatic on the slippery slopes of the highways of Romance. Babies born this year will have the double blessings of these stars.
The Rooster year may positively affect those born with the sign of the Snake, Dragon and the Ox. They can expect better progress during 2017, especially if they use their ambition, drive and show off their talents and intelligence. Progress in career, family harmony, health or financial success may be in store.
The most unfavorably affected sign is the Rabbit, as it is in direct opposition with the Rooster.  Life changes in the area of work, relationships, moving house, etc. could be anticipated.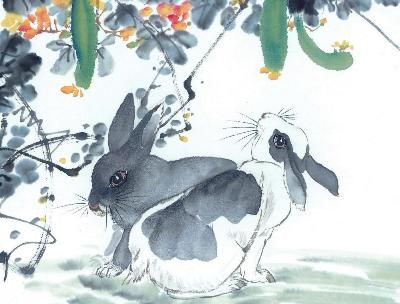 It is highly beneficial for the Rabbit-born sign to relocate, travel or make other significant life changes this year.
Meanwhile, the Rooster sign himself may experience more frustrations as well, sudden changes, or Health-related problems could arise as the Rooster occupies a 'self-penalty' position in 2017.
Yin Fire-ruled Signs should also be more alert and careful in 2017, as Fire-related accidents, or Health problems affecting the heart and lungs, high blood pressure, blood circulation or inflammation-related problems could occur.
2017 – The location of the 'Grand Duke' is West
The great planet Jupiter, called the 'Grand Duke', travels to a different location each year, and this year it will be visible towards the West. Traditionally, it is noted that we must not disturb the 'Grand Duke', so doing deep digging-type construction or traveling towards the West direction may bring complications.
'Flower of Romance Star': This year the Monkey, the Rat and the Dragon will be the lucky recipients of the beneficial influence of the 'Flower of Romance' star. Marriage, engagements or possible new Romance is indicated.
'Traveling Horse Star': In 2017 the Boar and the  Rabbit  are going to experience more than average travel opportunities, because the 'Traveling Horse' will land on their part of the chart. This could also include a major relocation.
The 'Nobleman' Star is always a very supportive energy, and this year it will help all those with Yin Fire and Yang Fire in the branches, such as the Snake, Horse and the Sheep. This means that a fortunate opportunity could develop for them: i. e. lucky meeting with a helpful mentor, boss, teacher etc…
NOTE: Like every year, I must remind you once again that every single personal chart is very complex, and while there may be some clashing or lucky aspects reflected in your individual charts, respectively, it is best to consult with a competent Ba Zi practitioner to get an accurate view of your individual outlook for the Lunar New Year.

RAT – The Rat native should get much support from the Fire Rooster in the area of Romance. Existing relationships get improvement and new romantic relationships are highly favored this year. Caution should be taken not to get involved in too many affairs to avoid jealousy. The female Rat may be especially lucky and in an attractive position to find the right partner. Health problems are negligible and finances are going well this year.

OX – Since the Ox native is one of the signs that combines with the Rooster, expect solutions to nagging problems this time around. This can include legal problems, health issues or other setbacks from 2016.  For creative businesses, artists or for other innovative endeavors, the Fire Rooster year can end up being very rewarding.

TIGER –Last year's problems are slowly vanishing, but caution is needed. It is advised not to jump into big important projects yet. Starting slow and taking small cautious steps will lead you out of the jungle. The Fire Rooster year could turn out to be a financially rewarding year. Health matters need careful attention.

RABBIT– Changes, changes, changes. The Rabbit and Rooster don't always see eye-to-eye, so the Rabbit native may feel a bit overwhelmed this year. On the financial front, this would be a good year to consider more practical investments and be frugal. Love relationships can bring a lot of joy.  Watch your Health carefully and be extra cautious to avoid accidents.

DRAGON – Dragons can enjoy the help of the Fire Rooster in many ways. If they are willing to let go of their pride, take the first step and ask, they can benefit from the help of people in authority or power. They are protected from harmful attacks, and are able to resolve their complex problems left over from past years. It is advised not to dwell on issues too much, else they may experience more losses than gains. Caution is advised with existing partnerships or Romantic relationships.

SNAKE –This time the Snake is protected by the Rooster, because of their mutual acceptance. Still, the Snake may feel a bit left out from all the action that makes him anxious. It would be best to use this positive year to make improvements, such as remodeling a home or start a healthier life style. Selecting more conservative investments or starting an educational program will also be very beneficial down the road. Travel could bring much needed healing as well.

HORSE –The Horse can be in his element this year, as the Rooster year brings much joy, recognition and new Romance into her life. 2017 could become one of the best years if she avoids the pitfalls of popularity. In the area of Relationships they must use caution and not invite jealousy from their partners.
SHEEP – This is an interesting year for the Sheep native. On the one hand the demands of the detail-minded Rooster can make him feel disoriented and annoyed. On the other hand, some Sheep -born signs may find unexpected good fortune and success. Even so, it is best to keep a low profile and not attract the envy of others, less fortunate than himself. Long-term health issues can be resolved in 2017.

MONKEY – After last year's lime light, the Monkey may feel left out of all the fun and games this year. However, this would be a good time to take stock and count all the gains and losses and plan for future success. This would be a good year to clear up legal matters and negotiate past misunderstandings. There are opportunities for quick investment gains. Romance stays on the back burner this time.

ROOSTER – Although the Rooster is in a self-penalty year, there will be many ways for her to find solutions to complex problems and come out as a winner. A great career year ahead, with opportunities offered by helpful associates or social contacts. It is an action-packed year, so be sure to get situated to end up being at the right place at the right time. Conservative investments and higher education pays off well, especially in future years.

DOG – This year the Dog finds himself to be the center of attention. Suddenly, she will be needed for important projects, jobs and are sought out by friends and social contacts as the go-to person problem solver. This can bring her much popularity and even fame. Caution is advised, so it does not create envy or jealousy in others, especially with their romantic partners. Health issues may arise from over exhaustion, so try to take as many breaks as possible.

BOAR – The Boar may find that the Fire Rooster brings him more opportunities than he bargained for. He is encouraged to use his ambitious drive and start a new business or invest in practical projects such as Real Estate construction or remodel.  The Rooster year offers many adventures, such as finding a new social circle or travel opportunities. However, new romantic relationships may need to take a backseat this time around.
NOTE: As all the animal signs can appear in all Four Pillars in a person's birth data, the clash and penalty relationship with the Rooster will not only cause impact on people born in the year of the Rabbit and the Rooster respectively. It may also impact anyone who has such signs in the Month, Day or Hour pillars of their birth charts.
The above is just a general outline. For a more reliable and accurate personal analysis for the New Lunar Year please consult Elizabeth with your specific questions.